11.11

Bar Chart Flipped Sorted Axes

20200820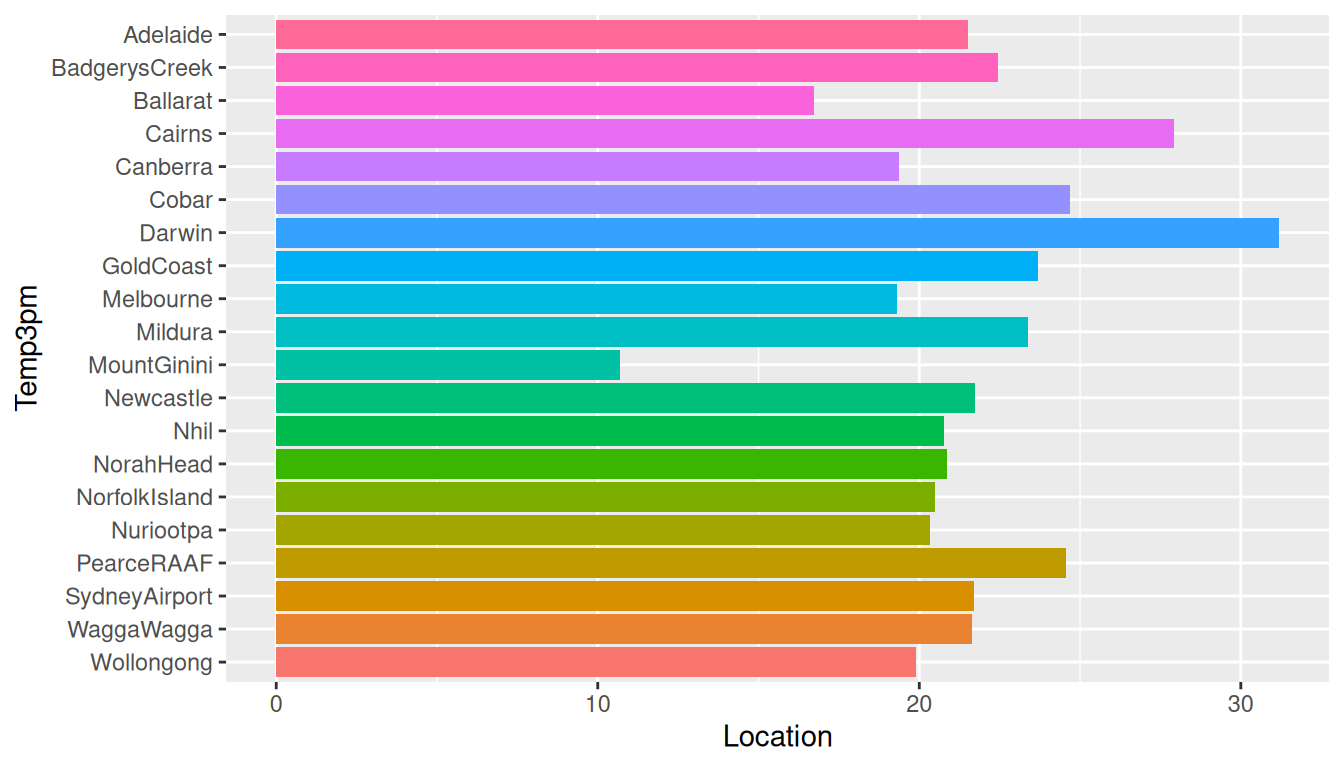 %>%


 ds 

filter

(location 

%in%

 (ds

$

location 

%>%

 unique 

%>%

 

sample

(

20

))) 

%>%


   

mutate

(

location=

factor

(location, 
   

levels=

(location 

%>%

 

unique

() 

%>%


                          

sort

() 

%>%

 

rev

()))) 

%>%


                                    

ggplot

(

aes

(location, temp_3pm, 

fill=

location)) 

+


   

stat_summary

(

fun=

"mean"

, 

geom=

"bar"

) 

+


   

theme

(

legend.position=

"none"

) 

+


   

labs

(

x=

vnames[

"temp_3pm"

], 

y=

vnames[

"location"

]) 

+


   

coord_flip

()  
Labels will sometimes appear in the reverse order to that required, particularly in this flipped bar chart. We can explicitly reorder the levels to ensure the plot labels are in a more natural (alphabetic) order for the human reader. We use dplyr::mutate() within a pipeline to create a factor with the levels in the desired order passing that on to ggplot2::ggplot().
The embedded pipeline within the dplyr::mutate() places the base::unique() locations in base::rev()erse base::sort()ed alphabetic order.
The functions ggplot2::scale_y_reverse() ggplot2::scale_x_reverse() may also be useful.
---
Your donation will support ongoing development and give you access to the PDF version of this book. Desktop Survival Guides include Data Science, GNU/Linux, and MLHub. Books available on Amazon include Data Mining with Rattle and Essentials of Data Science. Popular open source software includes rattle, wajig, and mlhub. Hosted by Togaware, a pioneer of free and open source software since 1984.
Copyright © 1995-2021 Graham.Williams@togaware.com Creative Commons Attribution-ShareAlike 4.0.