7.3

kmeans demo

20211016

The pre-built demonstration highlights the capabilities of the package.
==========================
K-Means Algorithm Showcase
==========================

K-means is an unsupervised clustering algorithm which does not require
any pre-labelled data to build a model. The algorithm groups data into k
clusters, each represented by its cluster centroid. The user needs to
provide the value of k (the number of clusters).

Our first example will build a clustering for a random dataset (a
different one each time) consisting of two variables, age and income,
for each person. The task begins by randomly choosing k (3) centroids
(shown as X's in the graphic). Each point is also coloured according to
its nearest centroid.

Close the graphic window using Ctrl-W. 

Press Enter to continue: 
The following graphic is displayed by the demo and the demo then waits for the user to indicate to continue with the demonstration, by typing the Enter key.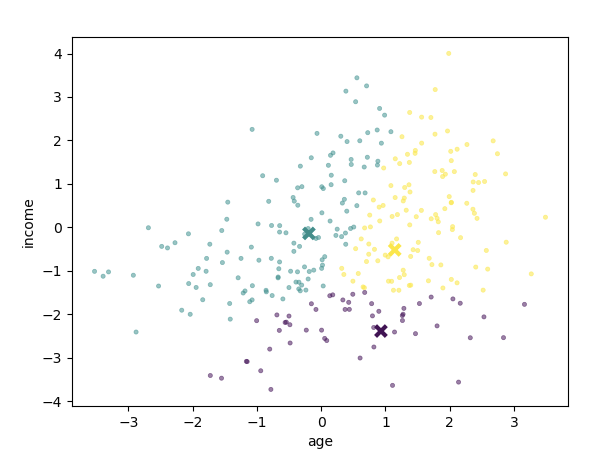 ---
Your donation will support ongoing availability and give you access to the PDF version of this book. Desktop Survival Guides include Data Science, GNU/Linux, and MLHub. Books available on Amazon include Data Mining with Rattle and Essentials of Data Science. Popular open source software includes rattle, wajig, and mlhub. Hosted by Togaware, a pioneer of free and open source software since 1984. Copyright © 1995-2022 Graham.Williams@togaware.com Creative Commons Attribution-ShareAlike 4.0