12.4

azcv gui

20210514

A simple desktop application is provided by this package. It presents an interactive graphical user interface (GUI) to quickly explore the possibilities of computer vision. The gui command gets us there.

This opens a window where you can enter a path to a local image file or a URL. The sample hand writing used here to demonstrate the OCR button was supplied by Ryley Nolan and Grace Patterson (two clever children exploring AI). The accuracy is pretty good!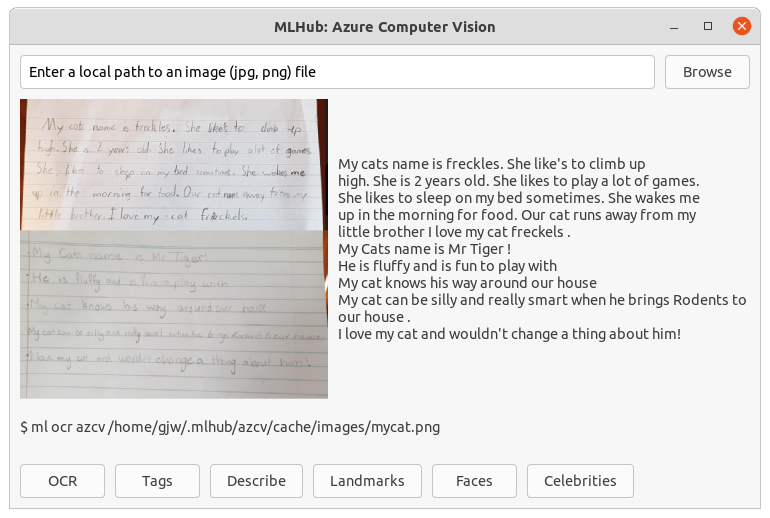 The GUI is basic but functional. Click the Browse button to, shall we say browse, to a file on the local computer. After you have a path to a local image file or a URL, it will be displayed. Then click one of the buttons. The corresponding command will be shown and the result display in the right hand panel.
If you cut and paste the command into the shell then you can see the same results. Give it a go.
---
Your donation will support ongoing availability and give you access to the PDF version of this book. Desktop Survival Guides include Data Science, GNU/Linux, and MLHub. Books available on Amazon include Data Mining with Rattle and Essentials of Data Science. Popular open source software includes rattle, wajig, and mlhub. Hosted by Togaware, a pioneer of free and open source software since 1984. Copyright © 1995-2022 Graham.Williams@togaware.com Creative Commons Attribution-ShareAlike 4.0